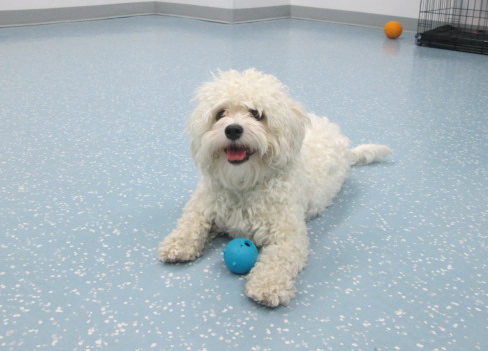 When Kate Kennedy and her boyfriend first tried to socialize their puppy, Annie, at the dog park, she was intimidated by the other dogs.
Kate thought maybe Annie would do better in a play environment where she had more supervision and knew she could play with other dogs that were small like her. They took her to Doggedly Devoted.
The first couple of times at daycare, though, "she just sat by herself the whole day and observed and did not engage," Kate said.
Now things are completely different. "At some point, I guess she felt safe enough," Kate said. . "Now Megan tells me she runs the room."
"She loves hanging with all her pals, especially her boyfriend Tux," Kate said. "And then she comes home and is just totally exhausted for the whole next day, which is perfect."
Annie is a fluffy, thirteen-pound "teddy bear," a new designer breed of dogs. Kate is not sure what her exact mix is. "They take a bunch of cute little lapdogs and breed them together."
Annie is about a year and a half old. Soon she won't be the baby of the family. Kate is expecting a baby in June.
Annie is good with Kate's two-year-old niece, so Kate thinks she will do well with the baby. "She sometimes gets a little aggressive with the licking, but most of the time kids like that," Kate said.
Annie is very social and curious. She likes going to visit people and exploring their homes.
Kate is from Maine, and Annie has also enjoyed trips there because she gets to run outside off-leash and explore and get filthy.
"She's very social, she's very affectionate … she's a true lapdog," Kate said.