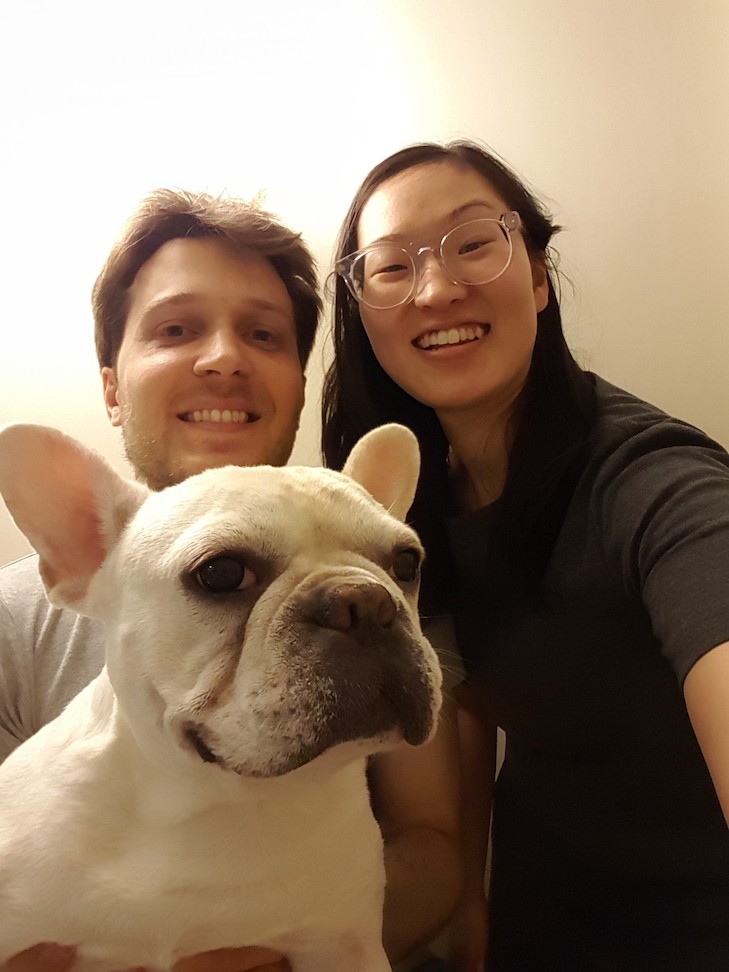 When Stacy Lee moved to New York City in 2010, she found the city was just full of dogs, and she wanted to have her own. In particular, she was captivated by French Bulldogs, a breed she had never before seen in her California home.
"I would see Frenchies on the street and completely walk in a different direction than I was going in order to follow these for a while. I was staying up until 3 am on the internet to look at photos of Frenchies. I was obsessed."
Mandu (pronounced like "fondue") came home to live with Stacy in late September 2012. Mandu means dumpling in Korean and as a chunky little white dog, Mandu perfectly embodies the name.
Stacy tells us that Mandu helped her learn about responsibility in a way that she never had before. She is a first-time dog owner, so the whole experience of caring for a dog has been a new and exciting one for her.
Mandu also helped Stacy connect more with her community, both here in the city and also online, where Mandu is well known on Instagram.
"Mandu has helped me explore New York more than I would have ever done on my own, especially small neighborhood streets and various parks, and see places in the mornings and evenings, in all kinds of weather. Walking with him has built in time in my busy schedule to connect with nature in every season, and all kinds of people who are drawn to him because he is cute and friendly–kids, groups of women out on a ladies' night, baseball teams, tourists, runners, grandpas, babies, etc. Sometimes it's like escorting a celebrity, or being a sidekick when he gets a lot of attention from strangers!"
Online, Mandu has connected with another Frenchie, also named Mandu. Despite the similar appellation, they couldn't be more different–"other Mandu," as we call her, has black fur and lives a world away in South Korea. Still, the two maintain a strong correspondence through Instagram, remembering one another's birthdays and other special events.
Mandu is a little New Yorker. He walks around like he's the mayor, and he knows all the places he has errands, from the vet to the dry cleaner!