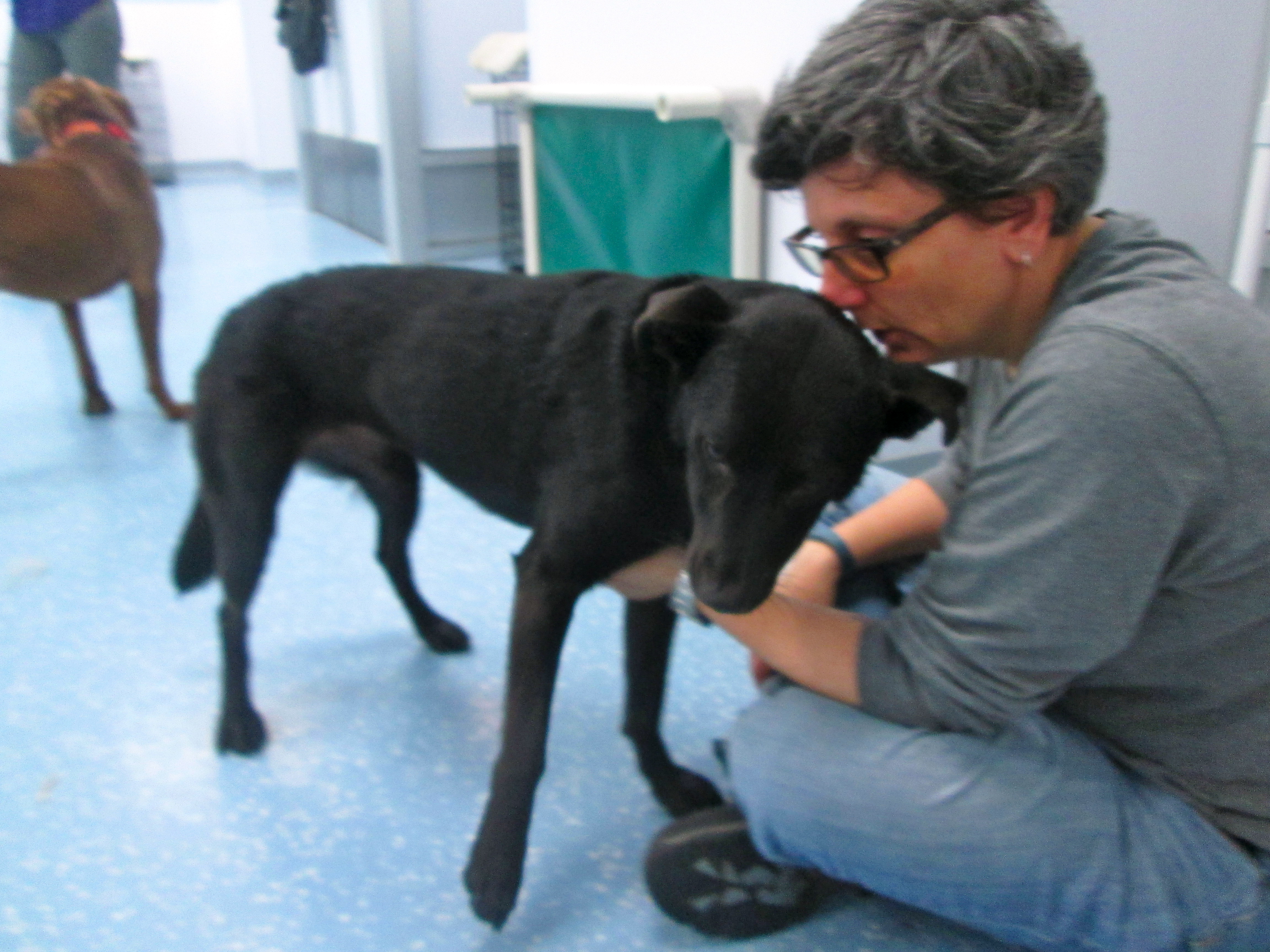 Emily Davis is one of those people who just needs a dog in her life. She had had a shepherd mix named Noah for 15 years until Noah passed away in January 2013.
After about six months of healing after Noah's passing, Emily met a dog of a friend who convinced her that she was ready to welcome another dog into her life, and Emily's partner, April Davis fully supported her decision.
Emily and April started checking out rescue organizations, ultimately deciding to adopt through the Badass Brooklyn Animal Rescue. They chose to adopt a Badass dog because it's an all-volunteer organization, and they feel like they really work hard to match dogs with compatible forever families.
"We started stalking dogs on the Badass Facebook page, and there were two we wanted to meet: Evangeline Lilly and Bobbi Brown." All Badass foster dogs are named after famous folks–another point that Emily and April really liked about the organization.
Ultimately, Emily fell in love with Evangeline Lilly, and they brought her home on November 20. They chose a new name for her: Moteq, which is Hebrew for "sweetie."
Moteq was terribly shy and afraid of everything when she first arrived in New York. Emily and April have spent the past half a year helping Moteq to learn how to be a city dog.
While Moteq loves daycare, at first she couldn't handle the 20-block walk through the city, so Emily and April rented a Zipcar to get her to Doggedly Devoted and home. Now she's able to make the walk just fine.
Moteq is still nervous about meeting human strangers. Emily says, "Doggedly Devoted helped Moteq come out of her shell with humans because of all the staff members she met here."
While Emily and April are helping Moteq to be her most confident self, Moteq gives something very special back to them.
Emily says, "There's something a dog can give you that no one else can give. I don't like getting up in the mornings–ever!–but on days that we are going to the dog park, I set my alarm for 5:45, and I couldn't be happier."
April says of her first days with Moteq, "Fear was a part of our lives everyday, but it's nice to see how consistency and time help her to grow. She's very courageous."