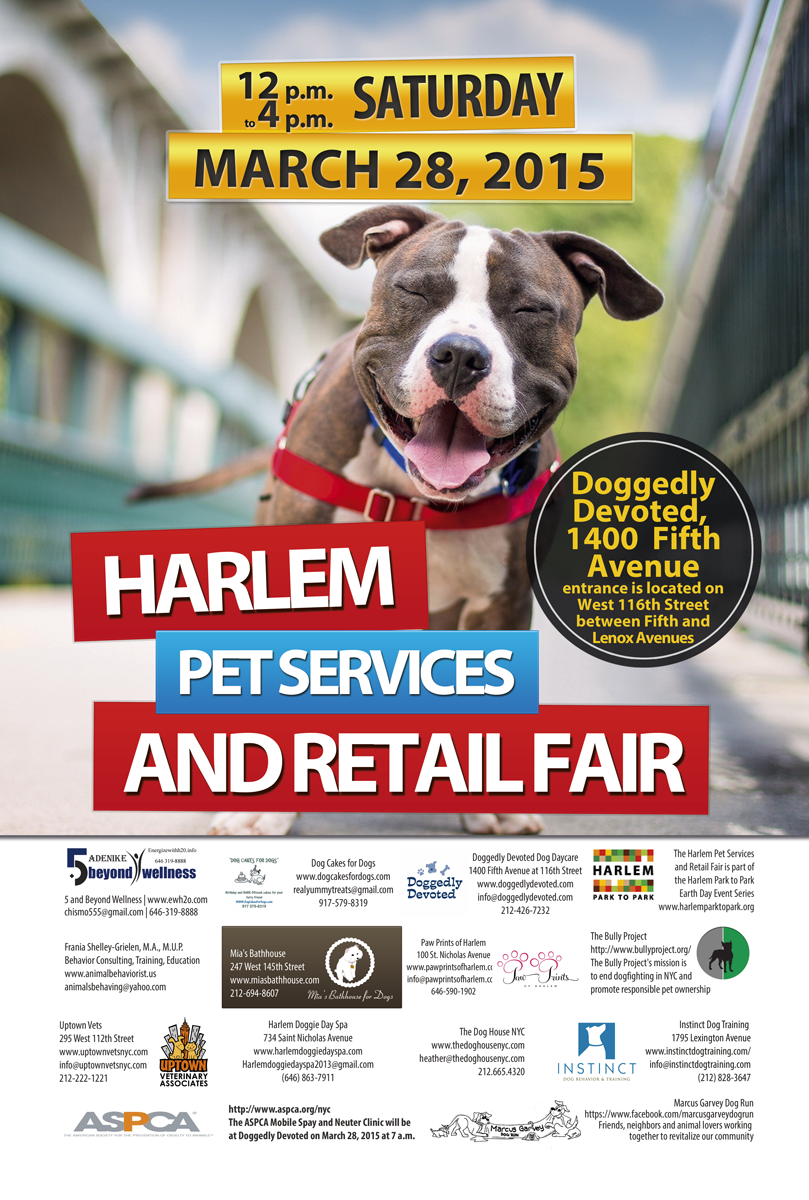 Harlem is vibrant and expanding, and it's a great place to have a pet. Over a dozen pet service pros are coming together on Saturday, March 28 from 12 to 4 pm for the Harlem Pet Services and Retail Fair to meet you–our neighbors– and show you everything that is available for your pets right here in Harlem. Join us at Doggedly Devoted, located in 1400 Fifth Avenue (entrance is on 116th Street between Fifth and Lenox Avenues) to meet these local business owners who are also your neighbors. There will be free samples and presentations.
Dogs are welcome on a leash and must be under your control at all times.
The ASPCA Mobile Spay and Neuter Clinic will be on site, too. If you are getting your cat or dog spayed or neutered you must arrive by 7 a.m. The ASPCA takes the first 20 to 25 animals that check in. The cost of spaying or neutering is $125. With proof of public assistance the cost is $5. Pit bulls are spayed or neutered for free. More more info see the ASPCA's web site.
The Harlem Pet Services and Retail Fair is part of the Harlem Park to Park Earth Day Event Series.
Participating Vendors:
5 and Beyond Wellnesschismo555@gmail.com 646-319-8888
Dog Cakes for Dogsrealyummytreats@gmail.com 917-579-8319
Doggedly Devoted Dog Daycare 1400 Fifth Avenue at 116th Street info@doggedlydevoted.com 212-426-7232
Frania Shelley-Grielen, M.A., M.U.P.Behavior Consulting, Training, Education animalsbehaving@yahoo.com 212-722-2509
Harlem Animal Hospital 193 Lenox Avenue 212-933-0955
Harlem Doggie Day Spa 734 Saint Nicholas Avenue harlemdoggiedayspa2013@gmail.com (646) 863-7911
Heart of Harlem Veterinary Clinic 2143 Adam Clayton Powell Jr. Boulevard 212-280-3700
Instinct Dog Training1795 Lexington Avenue info@instinctdogtraining.com (212) 828-3647
Lisa's Pet Styles22 Bradhurst Avenue lisa@lisaspetstyles.com 212-690-0010
Loyal Dog Walking and Pet Care Company loyaldogwalkingco@gmail.com 813-545-7642 813-727-2099
Mia's Bathhouse 247 West 145th Street 212-694-8607
Paw Prints of Harlem100 St. Nicholas Avenue info@pawprintsofharlem.com 646-590-1902
shinefordogs.com 526 West 111th Street 385-985-DOGS
Uptown Vets295 West 112th Street info@uptownvetsnyc.com 212-222-1221
ALSO JOINING US:
Bohemia Realty GroupBRG helps their clients find pet-friendly housing in Harlem.2101 Frederick Douglass Boulevard info@bohemiarealtygroup.com (212) 663-6215
Participating Non-Profit and Community Organizations:
ASPCAThe ASPCA Mobile Spay and Neuter Clinic will be at Doggedly Devoted on March 28, 2015 at 7 a.m. Please note that the clinic starts at 7 a.m.
The Bully ProjectThe Bully Project's mission is to end dogfighting in NYC and promote responsible pet ownership. You can meet one of their adoptables at the fair.
Marcus Garvey Dog RunFriends, neighbors, and animal lovers working together to revitalize our community.