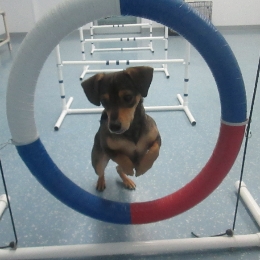 Simon is what we call a "foster fail." In the animal rescue world, foster fails are actually true success stories–dogs that were intended to housed temporarily end up finding their forever home with their fosterers.
Camaron and Gareth Fagan were fostering Simon in October 2013 "just for the Puppy Bowl filming." After just two days of fostering they knew he was going to be with them for the long term.
Simon is one of the hundreds of dogs that the Sato Project has rescued since it started eight years ago. The Sato Project focuses on the feral and semi-feral dogs of Puerto Rico, especially those abandoned on Dead Dog Beach, which is located on the southeastern coast of the island. Dead Dog Beach gets its name from the population of dogs that are abandoned there–left to their fate with no food or drinkable water, except what comes from volunteers.
Simon and the rest of his litter were abandoned on Dead Dog Beach, probably in August 2013 when they were about 3 to 4 weeks old. They were found by Sato Project volunteers in a taped up box. Of the four puppies, only two survived to be fostered. Simon and his littermates probably had distemper. His vet recognized this because when his adult teeth came in they had ridges in the enamel, most likely caused by the illness when he was a puppy.
Simon joined not just Camaron and Gareth, but also their 9-year old dachshund, Maddie, and with his charm and energy he has had a positive effect on the whole family. Camaron says, "with Simon around, Maddie seems years younger. She plays and is more active now, and Simon is so smart he made her smarter, too."
As for Camaron and Gareth–besides falling completely in love with Simon–his presence in their lives has gotten them more involved with the rescue work of the Sato Project. They have fostered several dogs from Puerto Rico; they do airport runs to pick up the dogs and get them to their foster homes; they raised $2600 for the Sato Project by running the Frozen Bonsai Half Marathon last December; and, with Simon's help, they have inspired their friends and family to foster and adopt as well.
Simon's friend at daycare know him as a pretty wild pup; but Camaron tells us that he is NOT a morning dog: "In the mornings he just can't get out of bed. When the buzzer goes, he crawls further under the covers and pretends to be asleep. Then when I try to put his harness on he becomes 'jelly dog' and flops around. Then I have to hand him off to the Doggedly Devoted staff member who is picking him up because he will try to take naps on the way down the stairs!" Needless to say, but the time he arrives at daycare, Simon has shaken off the morning blues and is ready to spend the day playing!