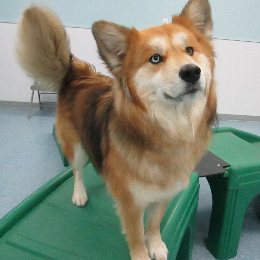 Chantel Moore and Teddy celebrated their one-year "adoptaversary" on December 21, 2014. Since Chantel met the convoy of cars carrying rescue animals from Georgia at the Meadowlands parking lot, Teddy has become her best friend and the love of her life.
Chantel had moved to Harlem recently after many years of living in Los Angeles and then Rome, Italy. She was feeling disconnected, but Teddy changed all that. "Having Teddy has been a wonderful way to have community in New York City, including my friends the 'cocktail ladies' that I met at the dog park."
In addition to opening up social circles, Teddy has opened up the city to Chantel. They take long walks in Central Park, where Teddy gets lots of compliments on his handsome appearance. People always want to know what kind of dog Teddy is, and Chantel's best guess is a Husky/Welsh Corgi mix, though some other suggestions that have been suggested to Chantel include Chow, German Shepherd Dog, Australian Cattle Dog, and Collie.
Chantel had always wanted a dog, but when she was younger her mother would never let her have one at home because she was was opposed to dogs in the house. Teddy, with his charming manners and rugged good looks, has changed her mind. He loves to stay at Chantel's mom's house, and when he does, he gets toys, gifts, his own special bed, and home-cooked meals. "Teddy got more Christmas gifts than I did this year," Chantel says.
Chantel had to complete a rigorous interview process to adopt Teddy from the Husky rescue organization that had been fostering him. Although she adopted him "sight unseen," except a photo, it turns out that Teddy was just the right dog for her lifestyle. He's quiet and mellow, but has bursts of playful energy. "He knows when I need rest, and he lets me, and we also have a lot of fun playing sometimes."
"He did recently chew up a shoe of mine, but it was a pair that really hurt my feet, so I don't mind. I let him have the other half of the pair, too."