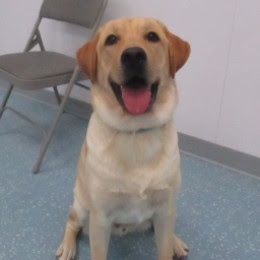 All her life that she remembers, Amelie wanted a dog–a black Labrador Retriever, to be exact–but as a child her parents said "no pets." As an adult, Amelie's circumstances weren't conducive to having a dog until she moved to New York City with her husband, Nicolas, and scored a pet-friendly apartment with a generous terrace.
For her 29th birthday, Nicolas told Amelie to get the dog of her dreams. It didn't happen right away, but with that, Amelie's research process started. She searched for months for the right breeder. It was very important to Amelie that she would not be supporting puppy mills with her purchase.
Eventually, she settled on a breeder in upstate New York who breeds Labs to be service dogs. Although Amelie always envisioned having a black Lab, the breeder had more yellow puppies. The wait list for a black Lab puppy was quite long because the breeder does not over-breed her dogs, and, after all the months of research and waiting, Amelie really just wanted her puppy.
"It's not about color when you see your puppy. You just love him right away."
You can tell right away that Amelie is head over in heels in love with Baloo. Because of her photos of him, he has quite a following on Instagram @baloothelab. "I love taking photos of Baloo, but I didn't want to bore my friends in my own Instgram account, so I started his own account for him."
He even met up with another Lab in real life through his Instagram connections–with the help and chaperoning of his mom, of course.
Baloo has mastered all the basic obedience cues that Amelie has taught him, and he is very respectful of his family's belongings. "Some people might say I buy too much stuff for Baloo, but at least I can say he never destroys things in our home. I think daycare really helps with that, too."