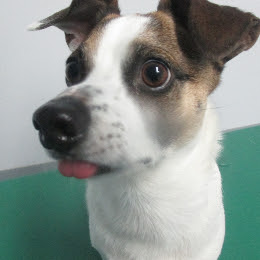 Riggs's life story is all about second chances.
Riggs was picked up by Animal Care and Control when he was found wandering up and down Bruckner Boulevard in the Bronx. He must have been stressed by the shelter environment because this sweet guy that we all know and love was flagged as being aggressive toward dogs and people.
Luckily for Riggs (who was being called Buster Brown at that time), a New Hope partner organization, Pet-I-Care, found him and decided that his failure to pass the SAFER test was a fluke. What a great save that was, because Riggs is clearly a lover, not a fighter. They pulled him out of the shelter and put him into a foster home the day before he was going to be put to sleep.
Around the same time, Carrie Renegar had been scouring the postings on Petfinder, looking for the dog she knew she needed in her life: "When I saw a photo of Riggs, there was just something about his big bug eyes. He looked sweet and curious."
Unfortunately, when Carrie called Pet-I-Care about "Buster Brown," she received the bad news that the little Jack Russell Terrier-Dachshund mix had been adopted out just the day before. Here's where Riggs (and Carrie!) got the second second chance that brought them together. When weeks later, Carrie couldn't get this dog out of her mind, she called the rescue back to find out that he had just been returned through no fault of his own.
It was fate: Carrie made a plan to meet him the next day, and they formed an immediate connection with snuggles and kisses. They celebrate his adoption date every year: July 9.
Two years later, Carrie is delighted with her family member. "He wins everyone over. He's so curious, but in a quiet and mysterious way."
Riggs loves his mom, too, which he demonstrates by waking her early on weekend days so that they can spend the day out and about together. Any other day of the week, Riggs would be happy to let Carrie oversleep her alarm, but when he knows that it's a mama-and-Riggs day, he has to be bribed into sleeping later with a spot in the bed.
Riggs loves to see his travel bag come out of the closet. He travels well and accompanies mom to locations all up and down the Eastern Seaboard from North Carolina to Long Island.
Riggs's good looks also got him a photo shoot with acclaimed photographer Steve Benisty and the title of Mr. December in the Pet-I-Care 2013 annual fundraising calendar.