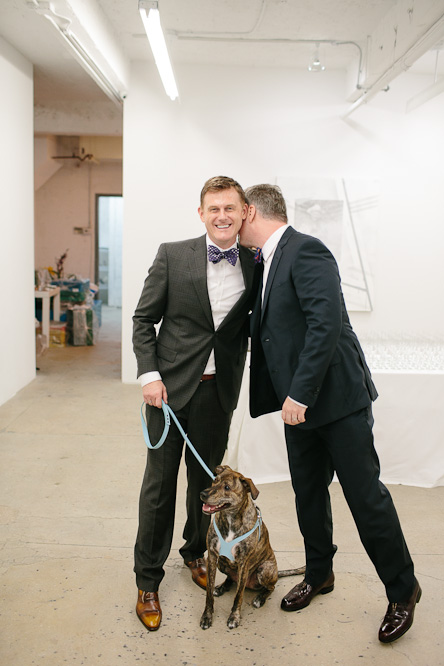 When his humans got married this fall, Edgar served as the ring bearer. He wore a blue leather harness and a plaid bowtie on a fake collar that looked like a man's dress shirt.
Edgar's owners, Brian Jacobson and Branko Jovanovic, also have a Lhasa Apso, Audrey, who was the flower girl. She wore crocheted flowers attached to a pink Coach collar.
A cellist performed at the wedding, and when she started the music, Edgar sang along.
"He was almost on pitch," Brian said.
Edgar is one and a half-year-old brindle Catahoula Leopard mix. Brian and Branko adopted him when he was eight weeks old after happening upon a pet fair in Chelsea. They went in to look for food for Audrey because she is a picky eater. They stumbled upon Edgar and fell in love.
Edgar was neutered at just seven and half weeks, Brian said, and so he will have a permanent puppy look from the lack of testosterone.
"He's definitely a love. He is a super, super affectionate dog," Brian said. Edgar likes to be right next to people, putting his head on their laps. He also gives hugs. "He likes to have one paw over you and one paw under you."
The couple also has two cats, Leoncio and Cristobal.
Brian works from home as a freelance web designer. While the rest of animal family stays home with Brian, Edgar goes to Doggedly Devoted for daycare two days a week to play with other dogs.
"I need the peace," Brian said. "It's really hard to work on the computer with a 45-pound dog in my lap."
Audrey, who is three and a half and the alpha of the two dogs, stays home because she isn't that social. The two dogs get along "famously," Brian said, but Audrey also enjoys Edgar's trips to daycare. She spends the day sleeping on a dog bed in Brian's office. She lies on her back with her legs in the air and snores.
"She gets a lot of rest when he's gone," Brian said.
And Edgar, a zealous player at Doggedly Devoted, sleeps more on the days in between because he is tired from daycare.
Edgar went to puppy school for six weeks and learned basic commands. "He's got just enough training for us," Brian said.
But Edgar does have one impressive trick. Brian and Branko say "Scooby Doo" and give Edgar a treat, and he walks on his hind legs.