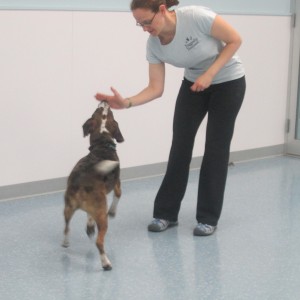 Each workshop is 60 minutes long, and the fee for each is $30. Please reserve your spot by email or phone: 212-426-7232.
Wednesday, July 10 at 7:30 PM Back to Basics: Sit, Down, Stay
Dogs and humans attend together. We will cover the basics of using positive reinforcement to teach dogs the basics.
Thursday, July 18 at 7:30 PM Take Me Out to the Dog Park: Playing it Safe Off-Leash
Humans only. This interactive workshop you will learn to identify the signals of good play between dogs. We will also discuss how how to intervene before a fight happens and what to do if a fight happens while you are at the dog park.
Monday,July 22 at 7:30 PM Home Alone: What to Do When Your Dog Says 'Don't Go
Quiet, patient dogs are welcome to attend, but most of the info will be for humans only. We will talk about how to prepare your dog and your home for your leaving, as well as the important of and keys to creating environmental enrichment.